Compost Organic Fertilizer Granulate Equipment Organic Fertilizer Round Granule Machine
Ring Die Type Organic Fertilizer Granulator Machine is a new improved granulation machine that specializes in making organic fertilizer granules. Input raw materials moisture can be 30-40%, there is no dust come out in the enclosure space granulation processing as well as the blower design which can make the surface of granule dry to avoid the granules stick together. Extrusion processing makes sure the pellets' strong enough and uniform in shape. Polisher parts turn the cylinder pellets into a ball shape. The good production rate is more than 90% and the finished product is ball granule. Its granule is uniform and has good solubility and high purity and quality.
| | |
| --- | --- |
| Model : | KHL-400-2 |
| Capacity: T/h | 1-1.8 |
| Input moisture content required: % | 30-35 |
| Moisture reduce after granulation : % | 3 |
| Input material particle size required : mm | 0.3-0.5 |
| Rate of finished products:% | >90 |
| Voltage : V | 380 (optional) |
| Granules size: mm | 3.5-5.5 |
| Power: KW | 33 |
| Total weight:Kg | 2000 |
| Size: m | 4.0 -1.7 -1.4 |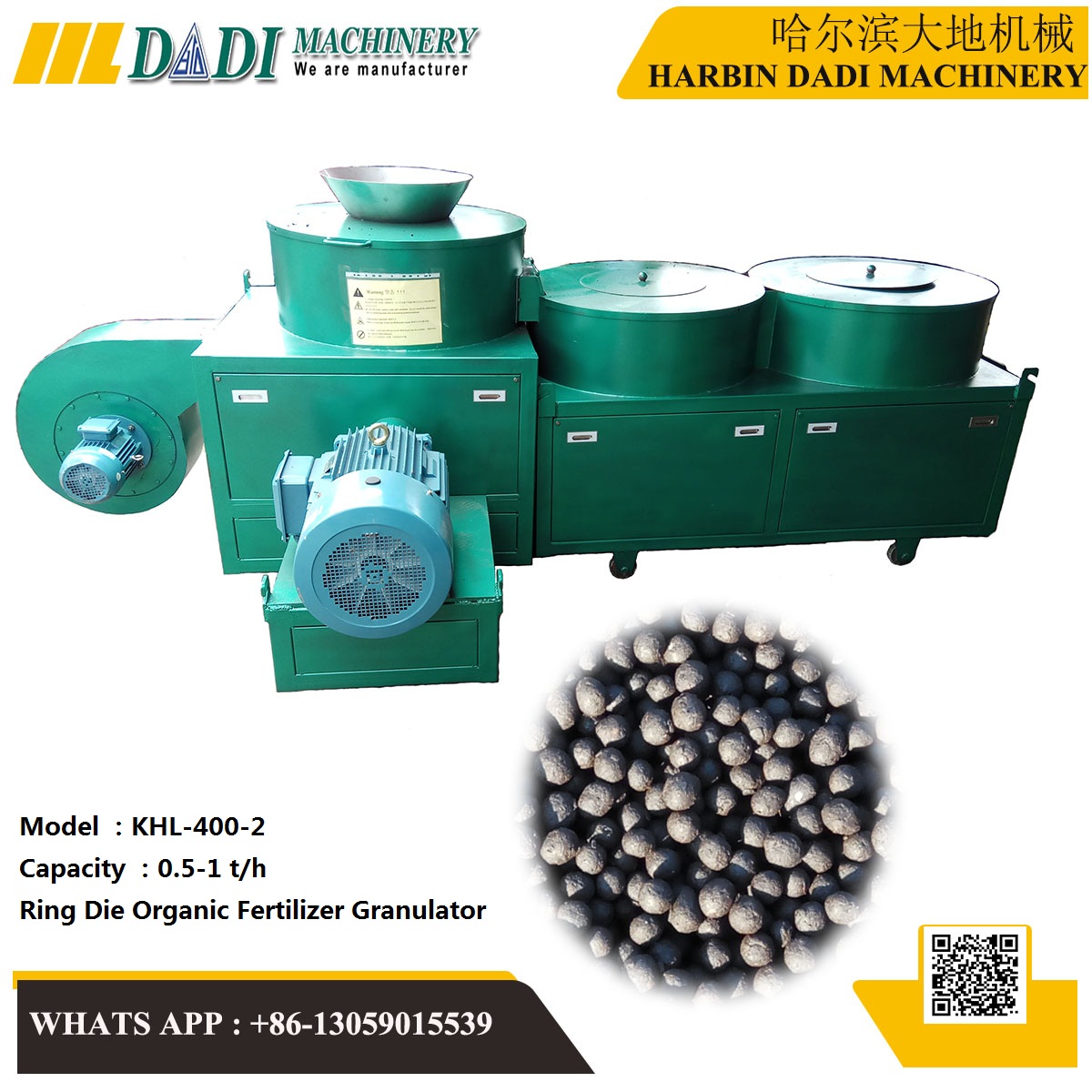 The series of granule machines can make the following raw materials into granules :
1.Agricultural waste: straw, dregs of beans, cotton dregs, rice bran,etc.
2.Animal manure: mixture of poultry litter (PL) and animal waste(AW),such as,Slaughterhouse waste,Fish market,Urine and dung of cow,Pigs,Sheep,Deer,Chicken, Ducks, Geese,Goat,earthworm cast etc.
3.Industrial waste: wine lees, vinegar residue, manioc waste, sugar scum, furfural residue,Bean cakes, Vinasse slag, Biogas residue, Fruit residue, palm oil residue etc.
4.Residues of urban rubbish or sewage treatment plants.
5.Home scrap: food waste, bones, the roots and leaves of vegetables, etc.
6.Turfs, lignite, sludge, pond sludge,Sucrose slag,starch pulp , Bentonite clay , Diatomite .
7.Organic materials mix with mineral materials.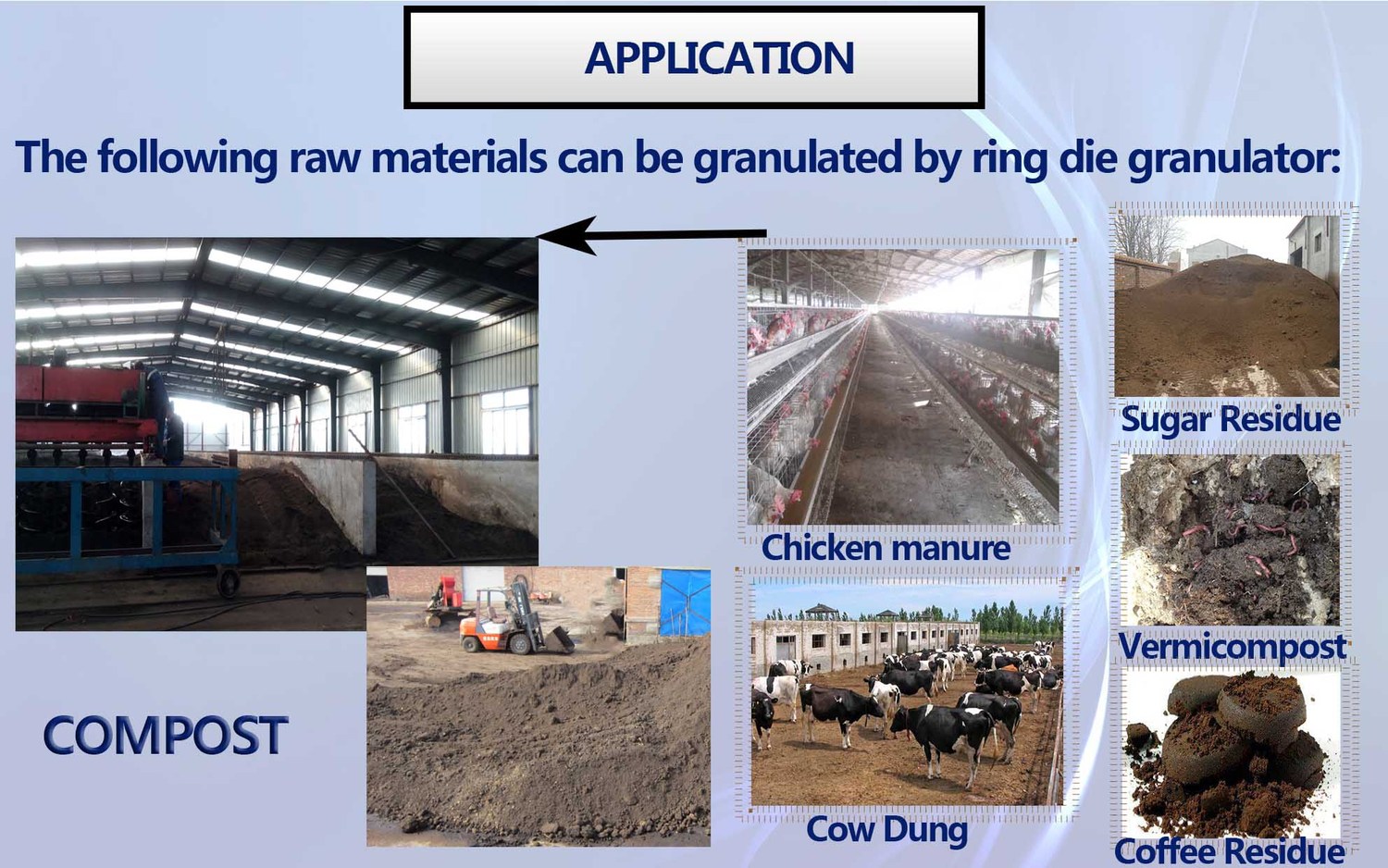 Organic fertilizer production line is a complete set of equipment from raw materials collection to the organic fertilizer granules packing.
1) Organic materials fermentation process:
It plays the preliminary but indispensable role in the whole production line.
Two main types of compost turner are widely used to turn and mix the compost and accelerate the fermentation speed, Self-propelled compost turner and hydraulic compost turner.
2) Crushing Process:
The compost lump materials should be crushed before the granulating process. But we can leave out crushing process when the compost material is fine enough. Vertical chain crusher and double-shaft horizontal crusher, two types of crushing machine can be used to crush lump compost raw materials.
3) Mixing Process:
Two types of mixing machine are applied to mix raw materials in the fertilizer production line: Horizontal fertilizer mixing machine and Vertical fertilizer mixing machine.
4) Granulating Process:
Granulating process is the core part in this production line, so we choose the suitable model of fertilizer granulator according to customers detailed requirements. Disc granulator machine, Drum granulator machine , Shifts granulator , flat die granualtor , or ring die granulator in the market . As usual , ring die granulator can be chosen to granulate the materials evenly with highest production rate and nice final granules shape.
5) Drying Process:
When granulating, the moisture of fertilizer raw materials should be 30-35 %, and moisture will reduce about 3-5% , so the final moisture is still more than 25% after granulation process .We should dry the raw materials if the moisture is more than 25%. Rotary drum drying machine is mainly used for drying the organic fertilizer granules with a certain degree of humidity and particle size.
6) Rotary Drum Cooling Machine:
The granules will take higher temperature & humidity .The rotary drum cooling machine is used for cooling fertilizer to normal temperature as well as make fertilizer particles stronger.
7) Rotary Drum Screening Machine:
It is used to separate the granules from the large or small particles which need to be returned for the second crushing and granulating.
8) Rotary drum coating machine is used to coat the fertilizer with wax and prevent the fertilizer from sticking together.
9) The last process is packaging process: Fertilizer packaging machine can package bags quantitatively and automatically. We also need some auxiliary equipment for connection such as belt conveyor, bucket elevator, etc.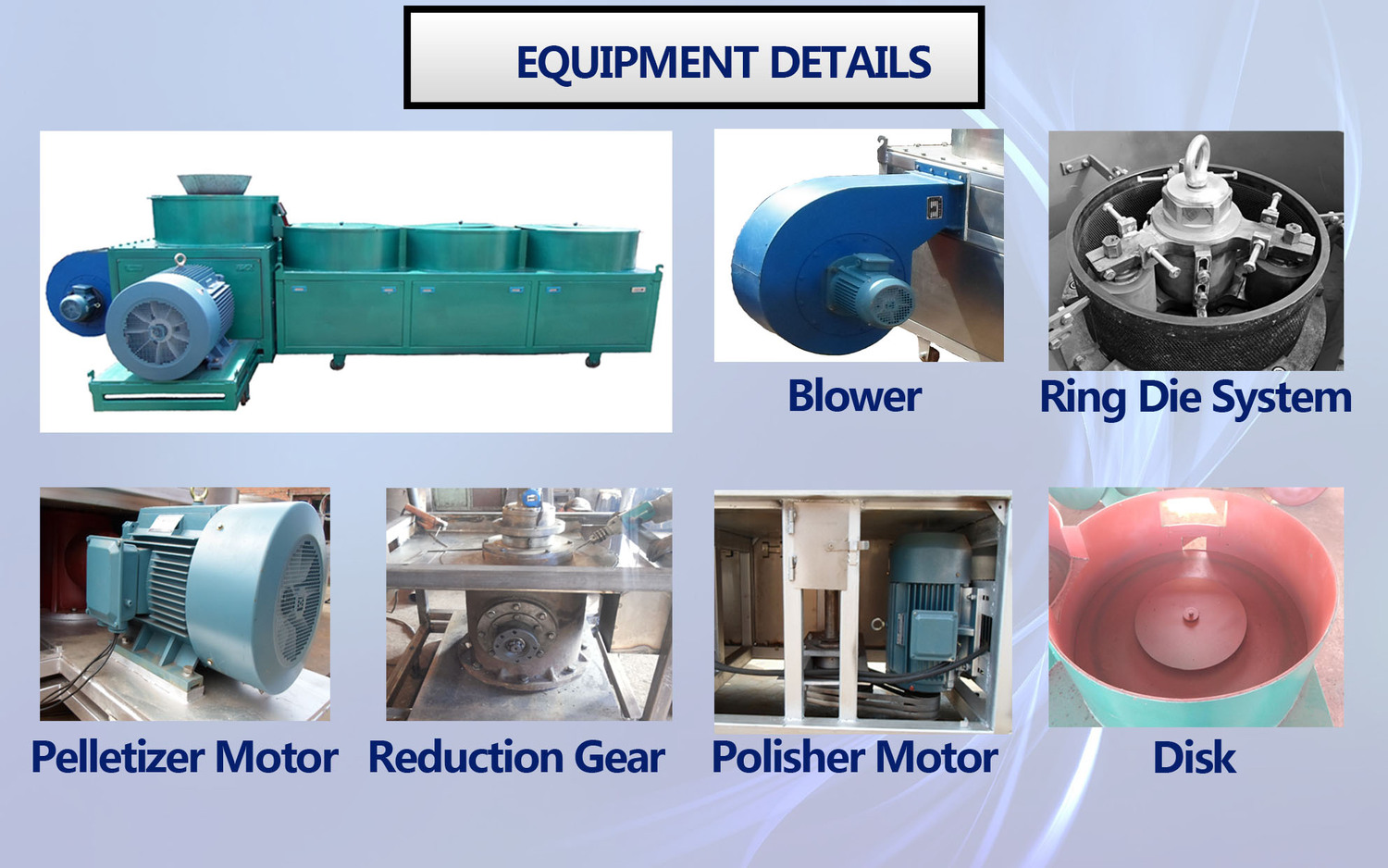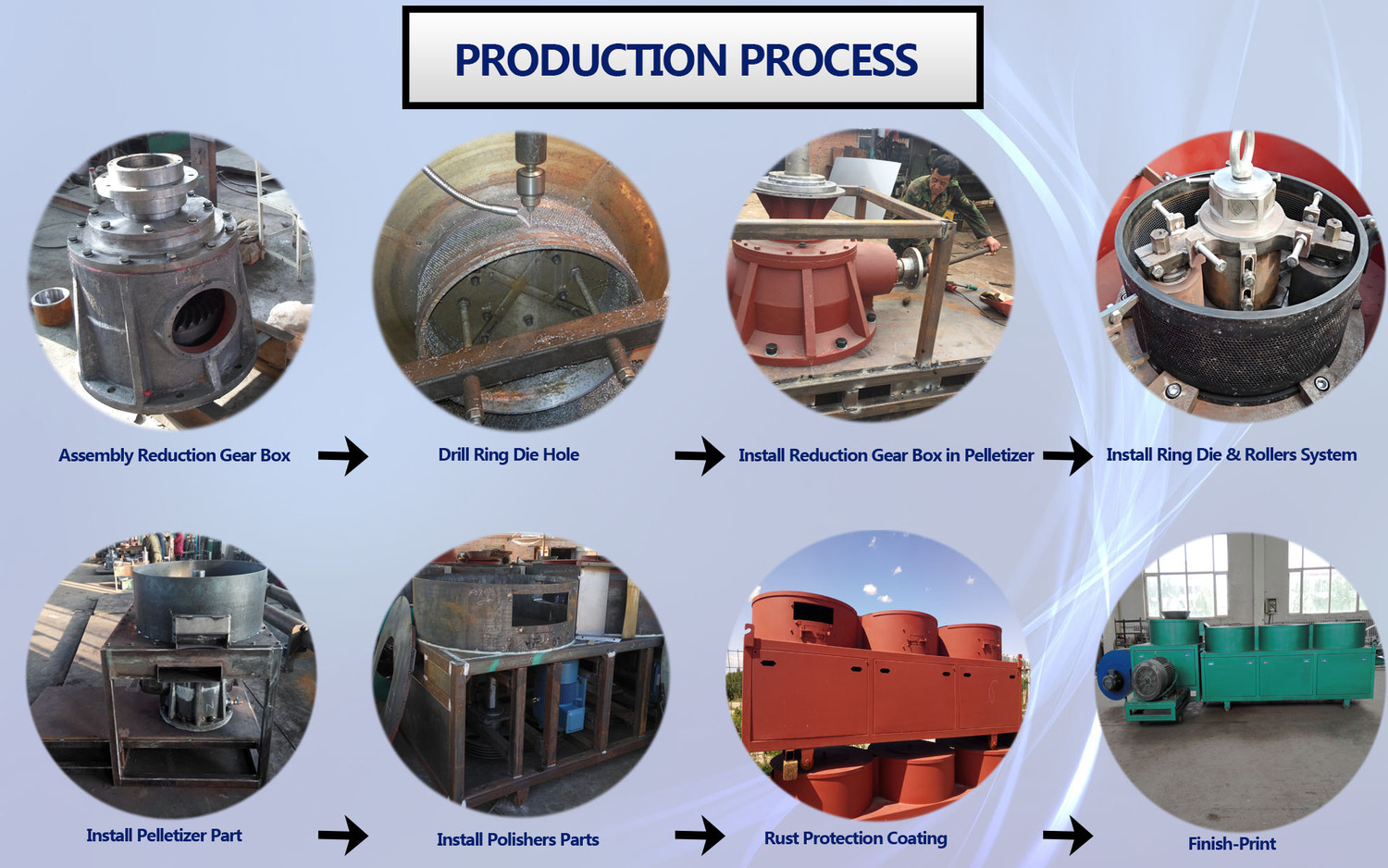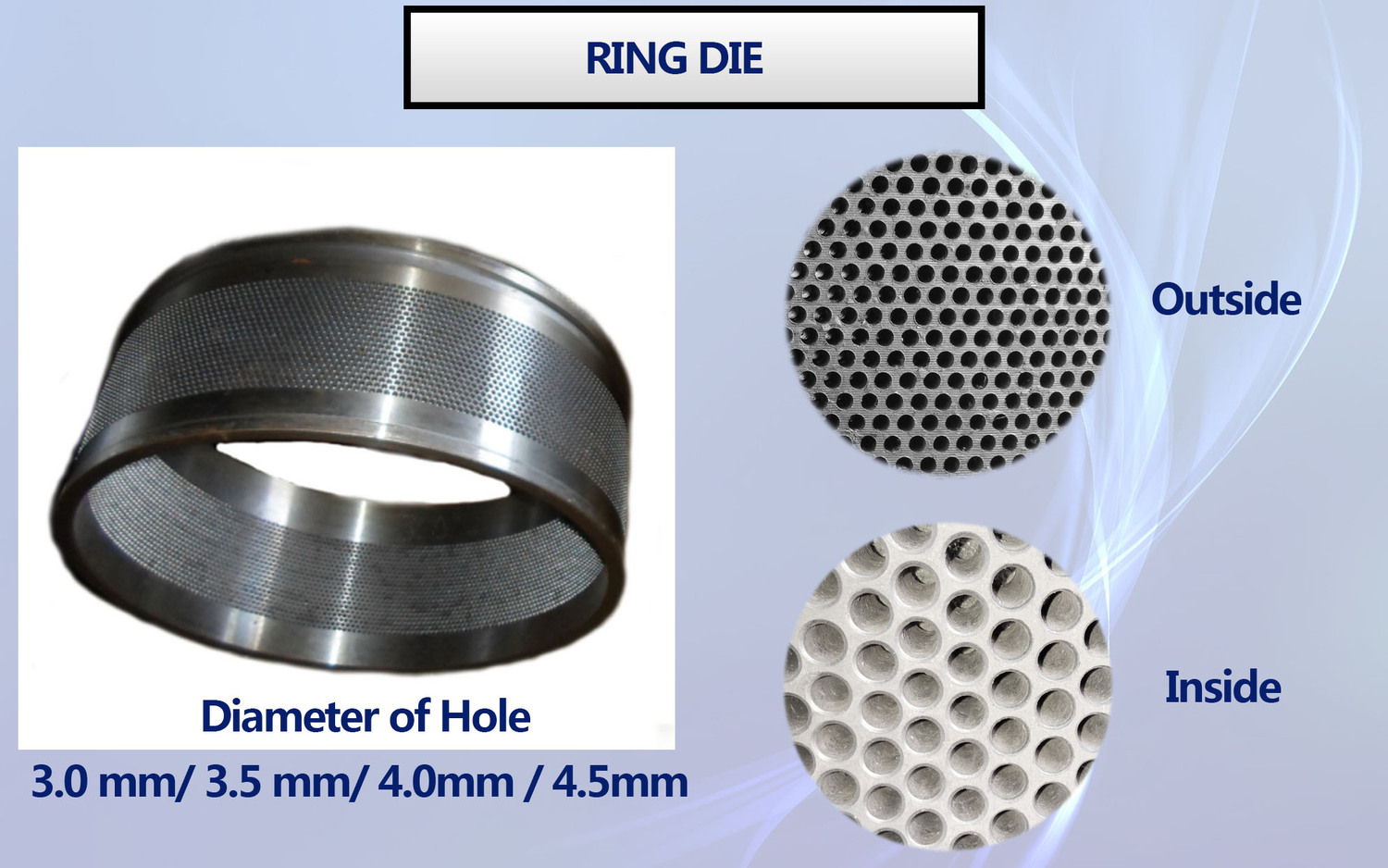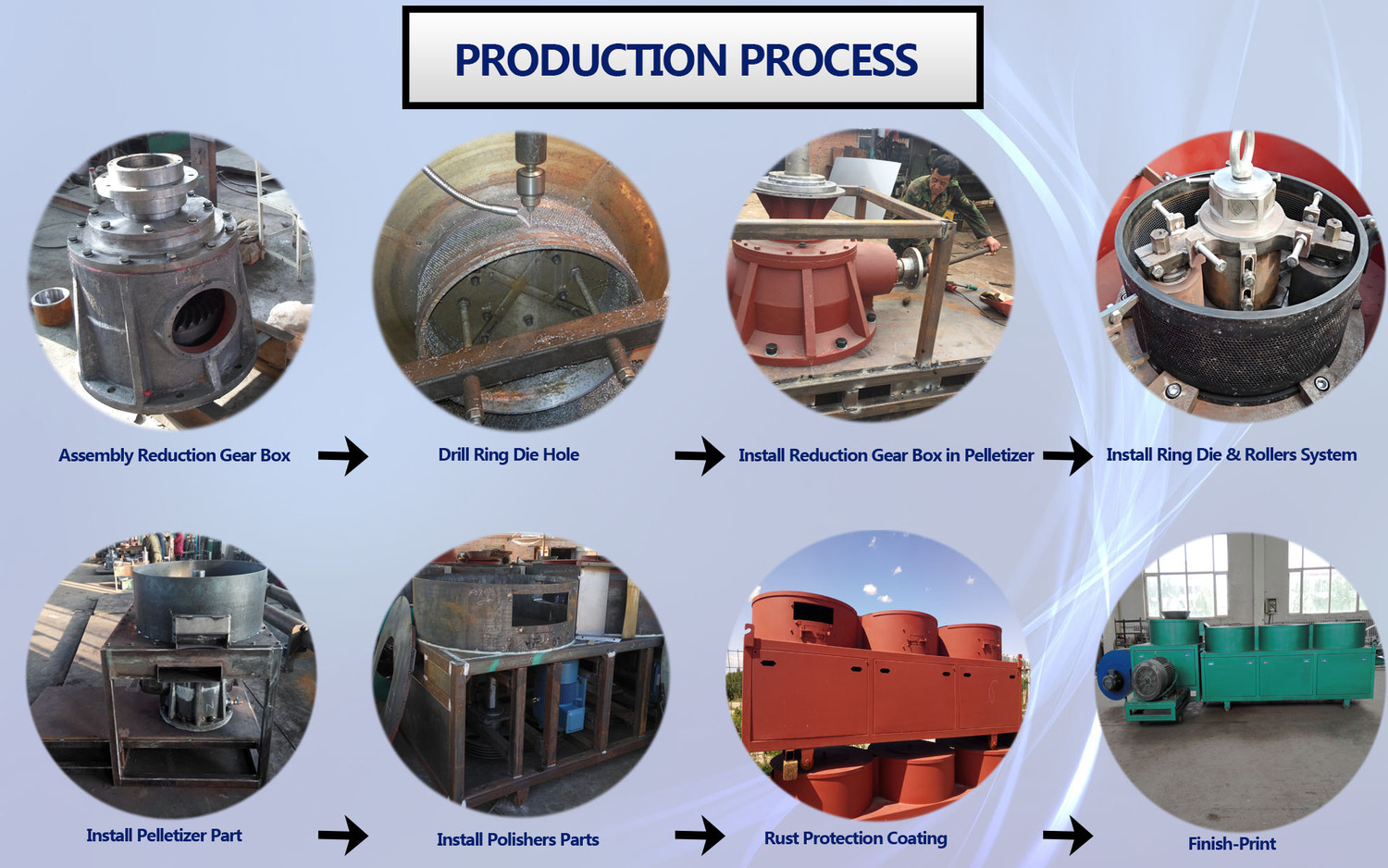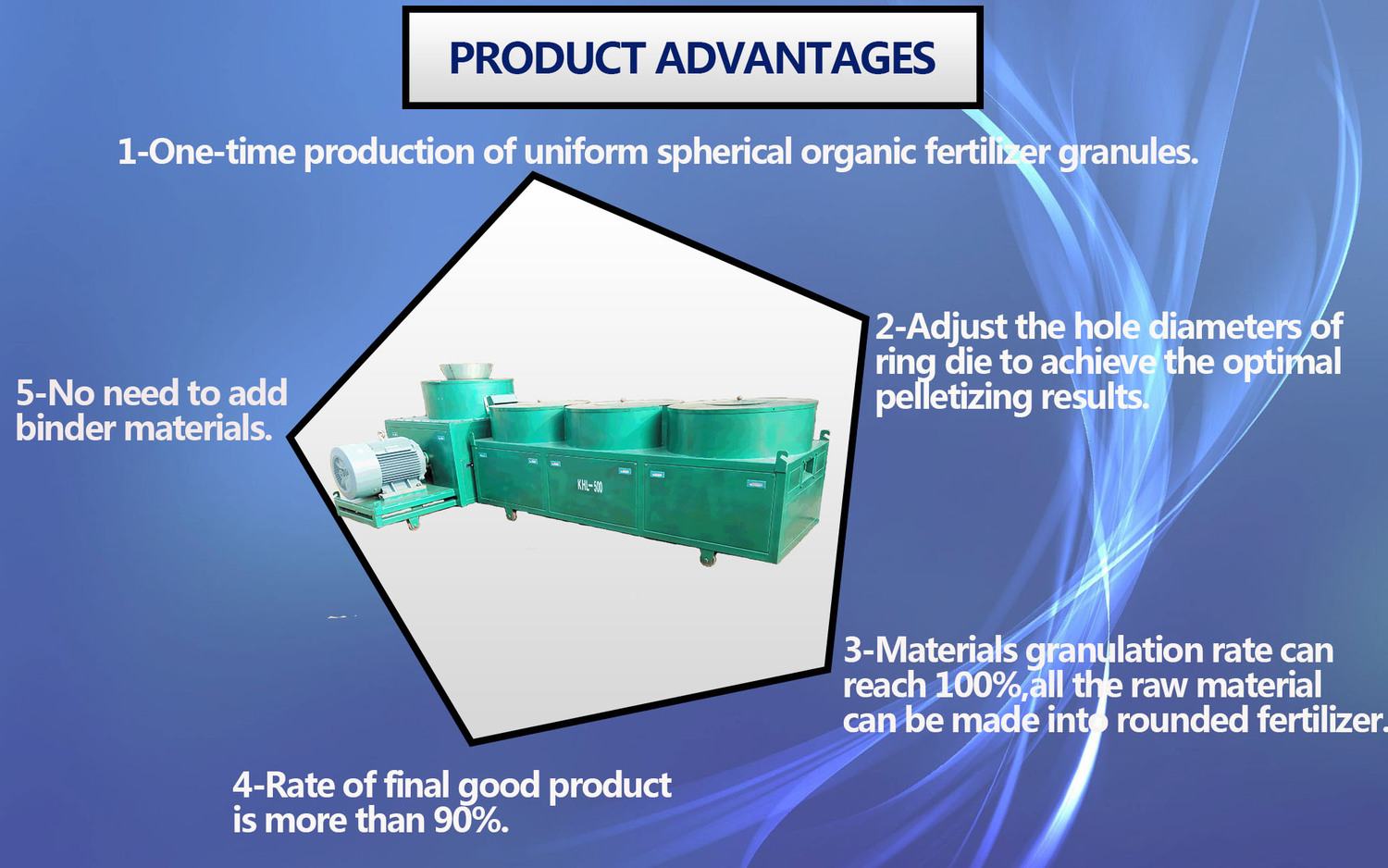 Delivery & Shipment:
| | | |
| --- | --- | --- |
| | LCL | FCL |
| Way | Wooden cases with steel frame | Container |
| Packaging Details | The normal package is wooden box (Size:L*W*H).If export to european countries,the wooden box will be fumigated.If container is too tigher,we will use pefilm for packing or pack it according to customers special request. | Loaded into container |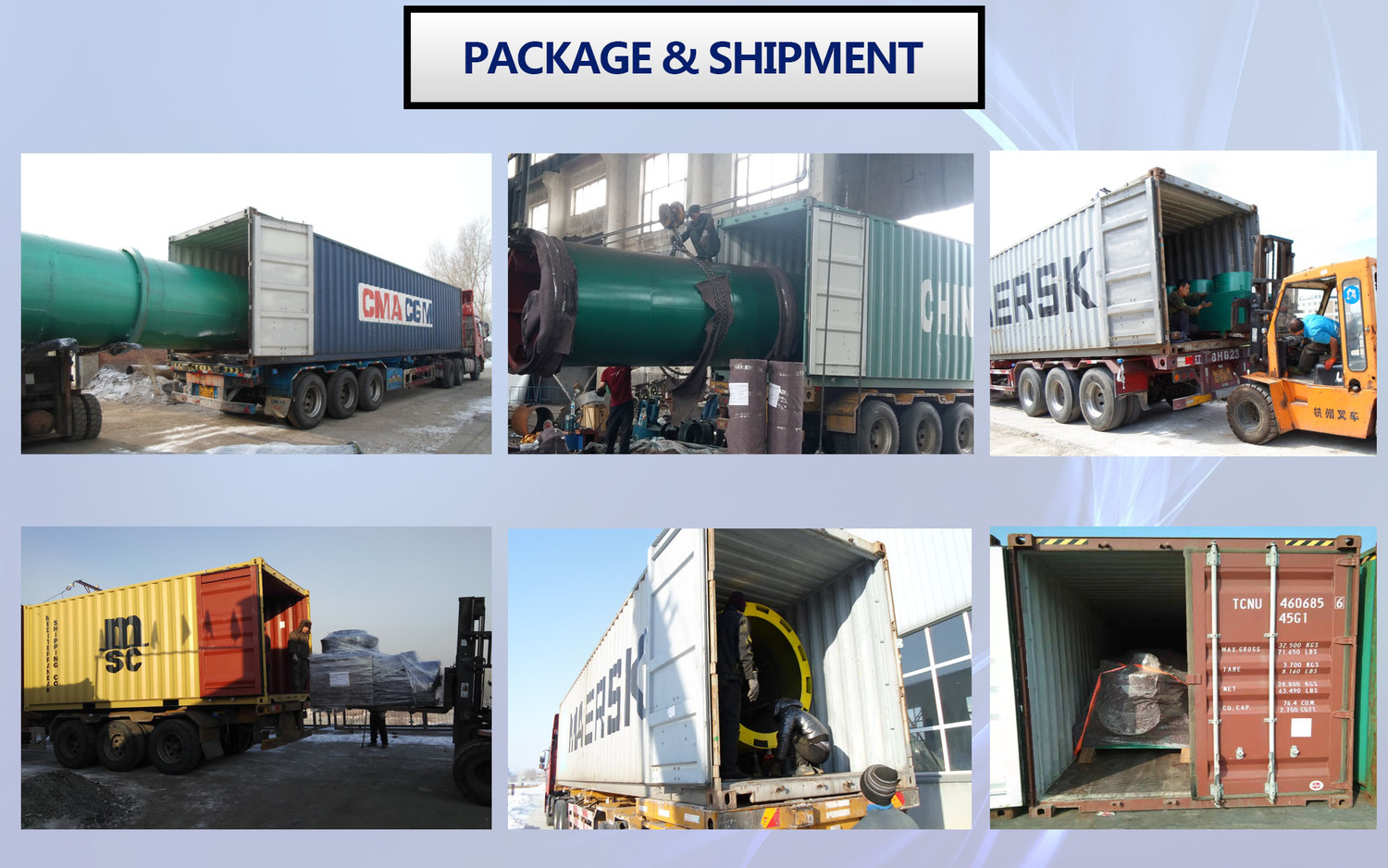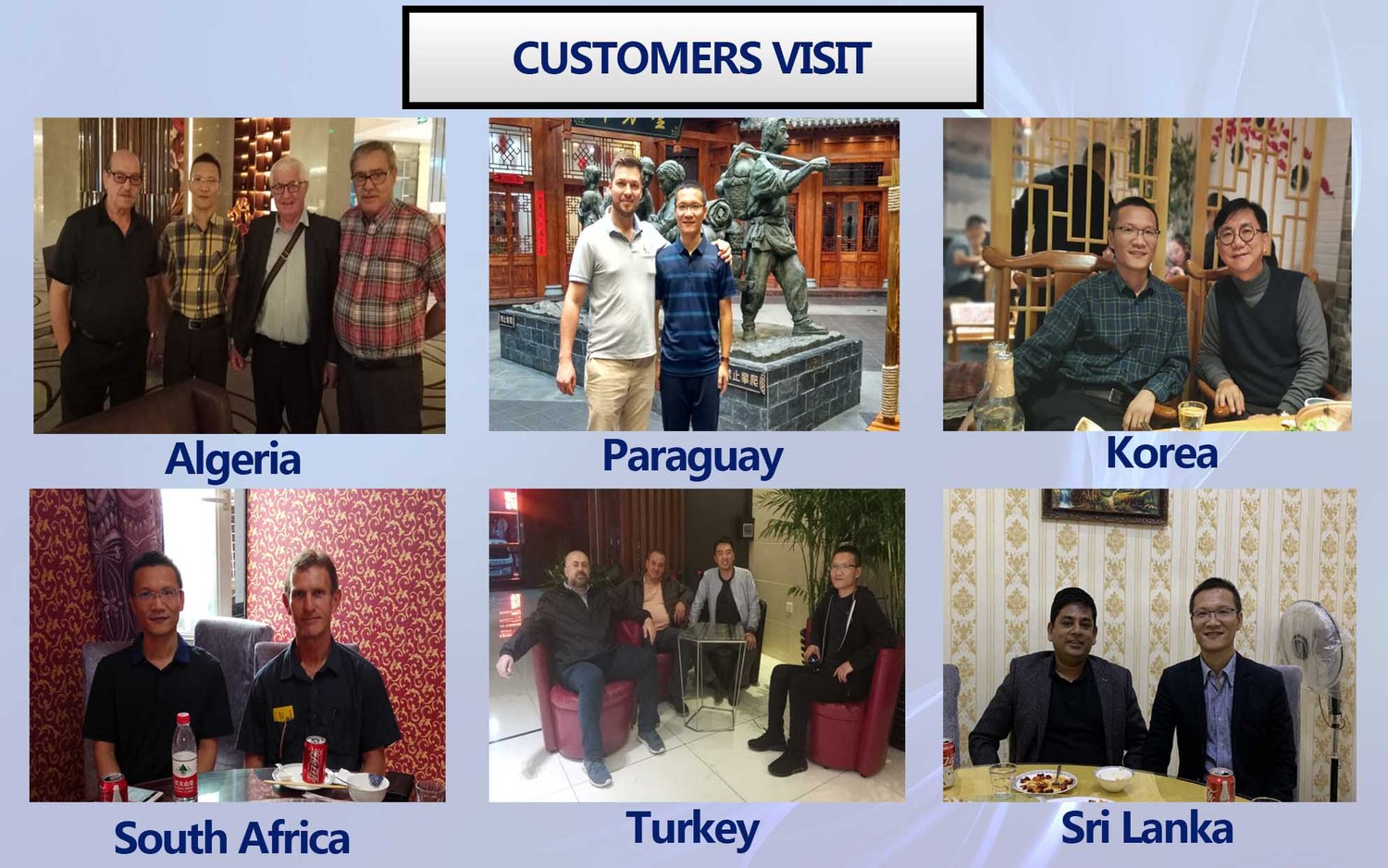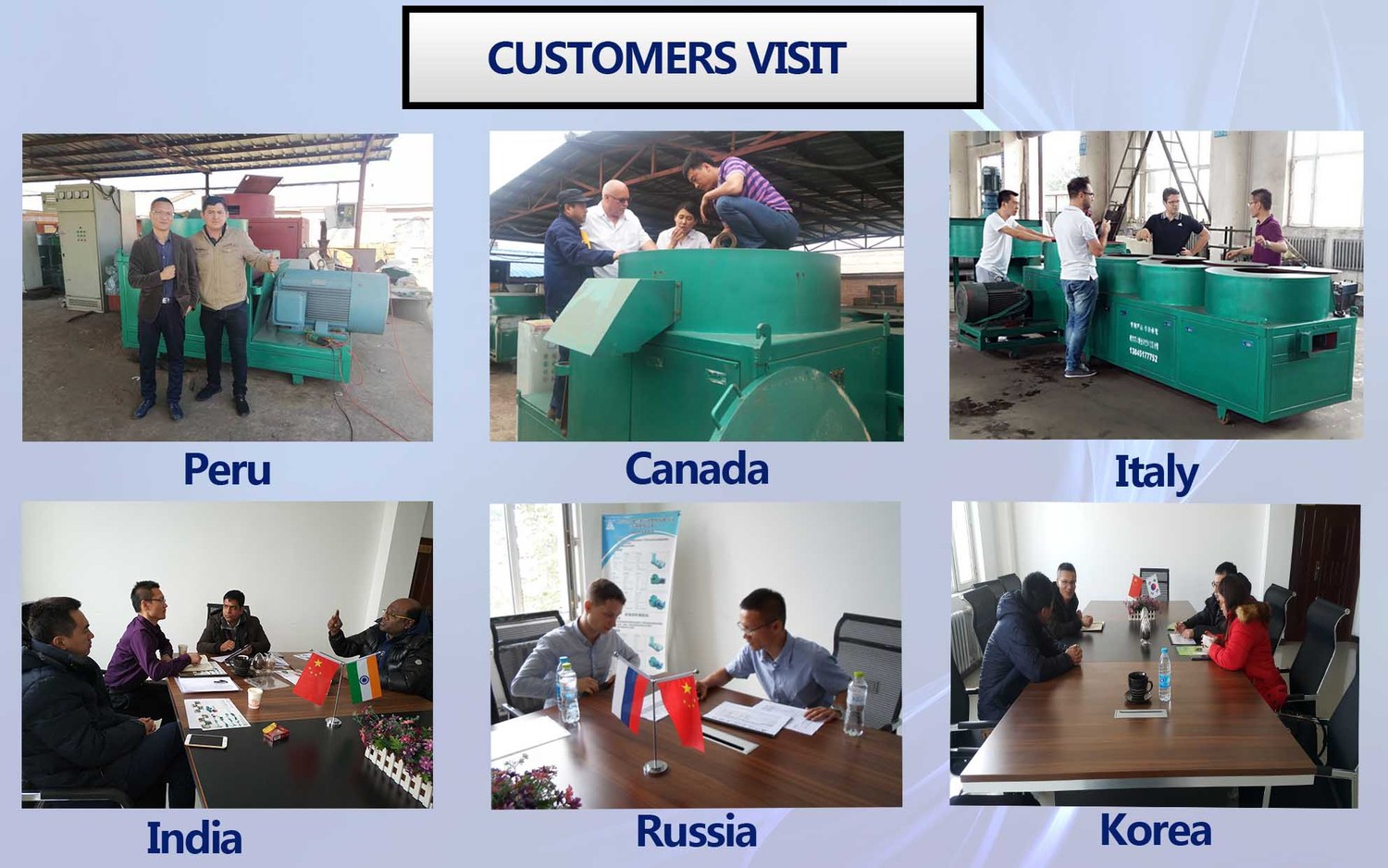 FAQ
1. Are you manufacturer or trading company?
We are manufacturer.
2.What is the payment terms?
We usually accept T/T.
T/T: 30% in advance as down payment, the balance before delivery.
We take pictures of finished products before delivery.

3.How about price?
We are factory and be able to give you the lowest price than market one.
4. Do you accept customized?
Yes , we have different customer make their own OEM product.So we also can make product as per your requirement.
5. Can I get some samples before place order and how long for a sample?
No. Because our product is big and high price.But we can test your material and send the video to you.
6. How is your shipping?
Shipping by sea.
Worldwide shipping service available
Please contact before order as shipping cost varies time to time.
7. How long is your guarantee?
12 months warranty but except quick wearing parts.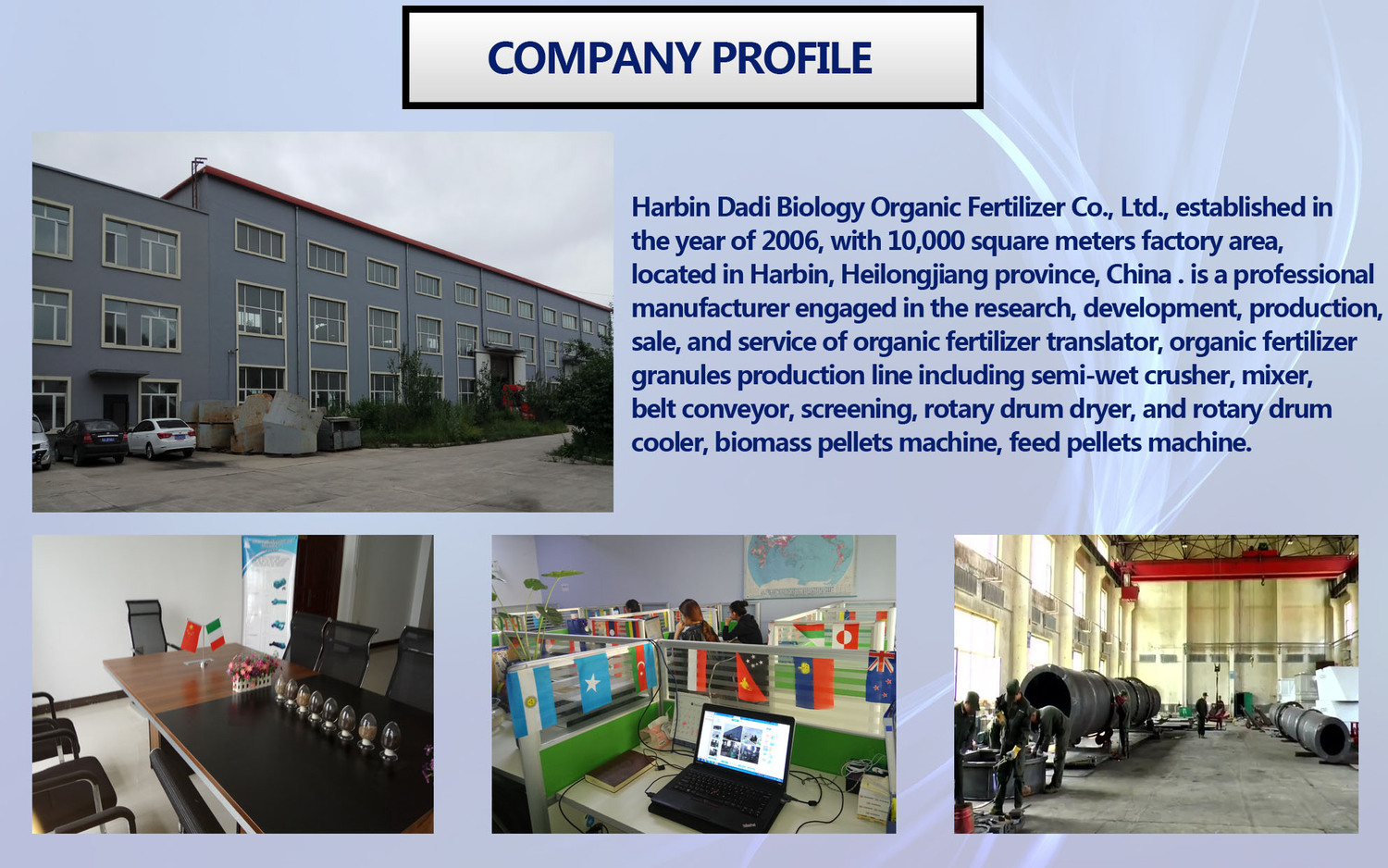 Professional organic fertilizer granulator equipment from China - Harbin Dadi Machinery