KHL-600 Cat litter bentonite clay granules machine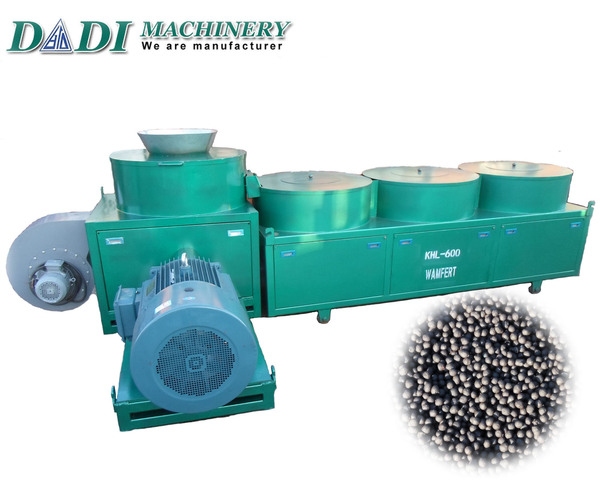 | | |
| --- | --- |
| Model : | KHL-600 |
| Capacity: T/h | 2.5-3.5 |
| Input moisture content required: % | 30-35 |
| Moisture reduce after granulation : % | 3 |
| Input material particle size required : mm | 0.3-0.5 |
| Rate of finished products:% | >90 |
| Voltage : V | 380 (optional) |
| Granules size: mm | 3.5-5.5 |
| Power: KW | 64.5 |
| Total weight:Kg | 3500 |
| Size: m | 4.7-1.9-1.6 |
The series of bentonite clay granules machine can make the bentonite clay into nice uniform granules from 3.5 mm to 5.5 mm as cat litter granules: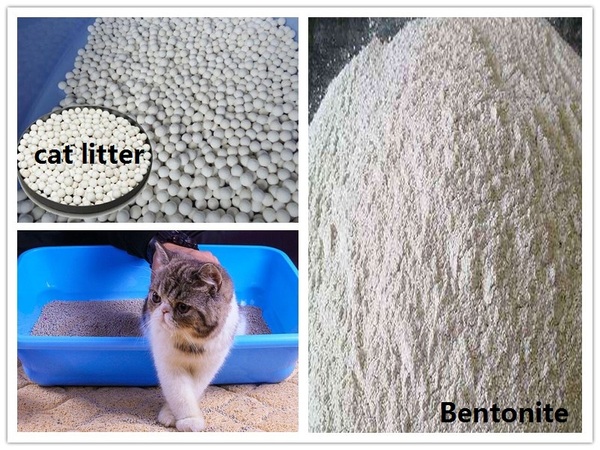 This king of ring die granulator can also make the following raw materials into granules as organic fertilizer :
1. Turfs, lignite, sludge, pond sludge,Sucrose slag,starch pulp as materials can be made into granules;
2. Chicken manure ,duck manure , pig manure , sheep dung , deer manure ,cow dung and earthworm cast as materials can be made into granules ;
3. Bean cakes ,Vinasse slag, Biogas residue , Fruit residue ,palm oil residue as the main materials can be made into granules;
4. Residues of urban rubbish or sewage treatment plants as materials can be made into granules.
5. Organic materials mix with mineral materials .
You can also find this video from You tube " https://youtu.be/oDQ3669mkA0 "

Working Principle
The Ring Die Granulator (bentonite clay granules machine) has two parts :
1, Pelletizer part
2, Polisher (Balling) part
The Pelletizer part with Ring die and rollers system :
The raw material goes into working chamber and fall on the 'dump tray', the raw materials throw into the ring die by centrifugal effect ; The ring die and rollers system turning drive by reduction gears & transmission which energy from motor . The pressure come from ring die and rollers system running ,cylinder form are forced extrusion from ring die hole ,which cutting into small pellets as required by cutting line .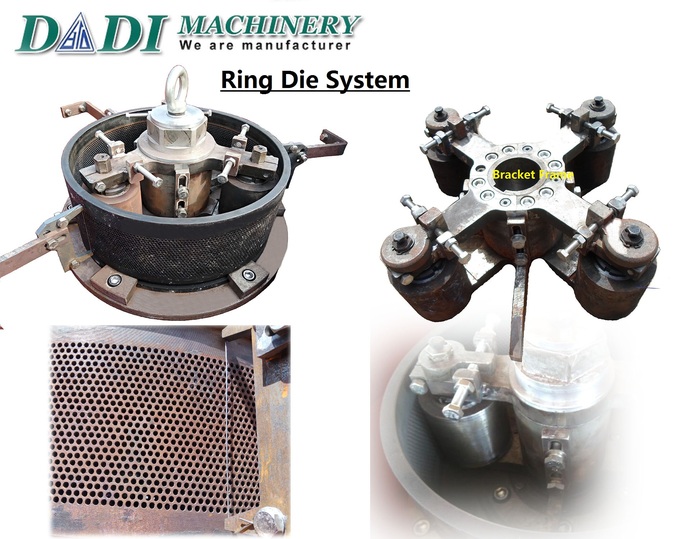 Polisher (Balling) part are rotation disks :
The small pellets fall onto the disk in the drum ,by high-speed rotating disk throw onto the wall of drum with circumferential movement , the granules in a circular motion at the same time also in radial rotation motion due to centrifugal effect . Mutual friction make the granules with edges and corners into balls gradually due to granules' moving . At this moment , Polisher (Balling) part gradually floating on the top , final granules overflow along with quantity of granules increased in the drum .