KHL-500 Organic Fertilizer Granule Production Line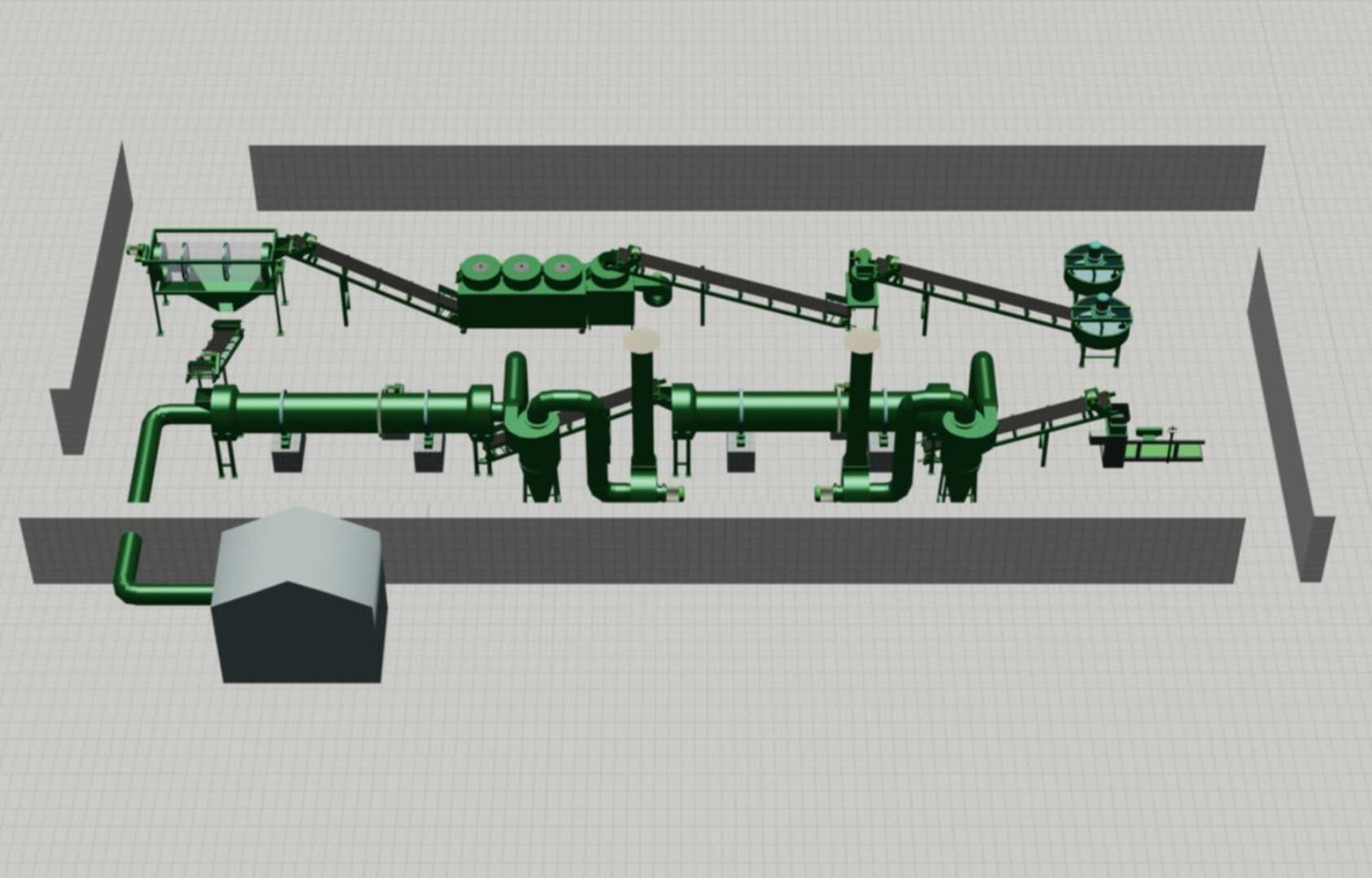 | | |
| --- | --- |
| Model: | KHL-500 |
| Capacity: T/h | 2-4 |
| Feed raw materials particle size :mm | 0.3-0.5 |
| Feed raw materials moisture content : % | 30-35 |
| Pellet. rate:% | >90 |
| Pell.temp.rise.℃ | <30 |
| Pell. dia.: mm | 3.5-5.5 |
| Power: KW | 45 |
| Total weight:Kg | 3000 |
| Size: mm | 4500-2000-1600 |
The series of granule machines can make the following raw materials into granules :

1. Turfs, lignite, sludge, pond sludge,Sucrose slag,starch pulp as materials can be made into granules;
2. Chicken manure ,duck manure , pig manure , sheep dung , deer manure ,cow dung and earthworm cast as materials can be made into granules ;
3. Bean cakes ,Vinasse slag, Biogas residue , Fruit residue ,palm oil residue as the main materials can be made into granules;
4. Residues of urban rubbish or sewage treatment plants as materials can be made into granules.







Organic fertilizer production line is a complete set of equipment from raw materials collection to the organic fertilizer granules packing.

1) Organic materials fermentation process:
It plays the preliminary but indispensable role in the whole production line.
Two main types of compost turner are widely used to turn and mix the compost and accelerate the fermentation speed, Self-propelled compost turner and hydraulic compost turner.
2) Crushing Process:
The compost lump materials should be crushed before the granulating process. But we can leave out crushing process when the compost material is fine enough. Vertical chain crusher and double-shaft horizontal crusher, two types of crushing machine can be used to crush lump compost raw materials.
3) Mixing Process:
Two types of mixing machine are applied to mix raw materials in the fertilizer production line: Horizontal fertilizer mixing machine and Vertical fertilizer mixing machine.

4) Granulating Process:
Granulating process is the core part in this production line, so we choose the suitable model of fertilizer granulator according to customers detailed requirements. Disc granulator machine, Drum granulator machine , Shifts granulator , flat die granualtor , or ring die granulator in the market . As usual , ring die granulator can be chosen to granulate the materials evenly with highest production rate and nice final granules shape.
5) Drying Process:
When granulating, the moisture of fertilizer raw materials should be 30-35 %, and moisture will reduce about 3-5% , so the final moisture is still more than 25% after granulation process .We should dry the raw materials if the moisture is more than 25%. Rotary drum drying machine is mainly used for drying the organic fertilizer granules with a certain degree of humidity and particle size.

6) Rotary Drum Cooling Machine:
The granules will take higher temperature & humidity .The rotary drum cooling machine is used for cooling fertilizer to normal temperature as well as make fertilizer particles stronger.
7) Rotary Drum Screening Machine:
It is used to separate the granules from the large or small particles which need to be returned for the second crushing and granulating.
8) Rotary drum coating machine is used to coat the fertilizer with wax and prevent the fertilizer from sticking together.
9) The last process is packaging process: Fertilizer packaging machine can package bags quantitatively and automatically. We also need some auxiliary equipment for connection such as belt conveyor, bucket elevator, etc.